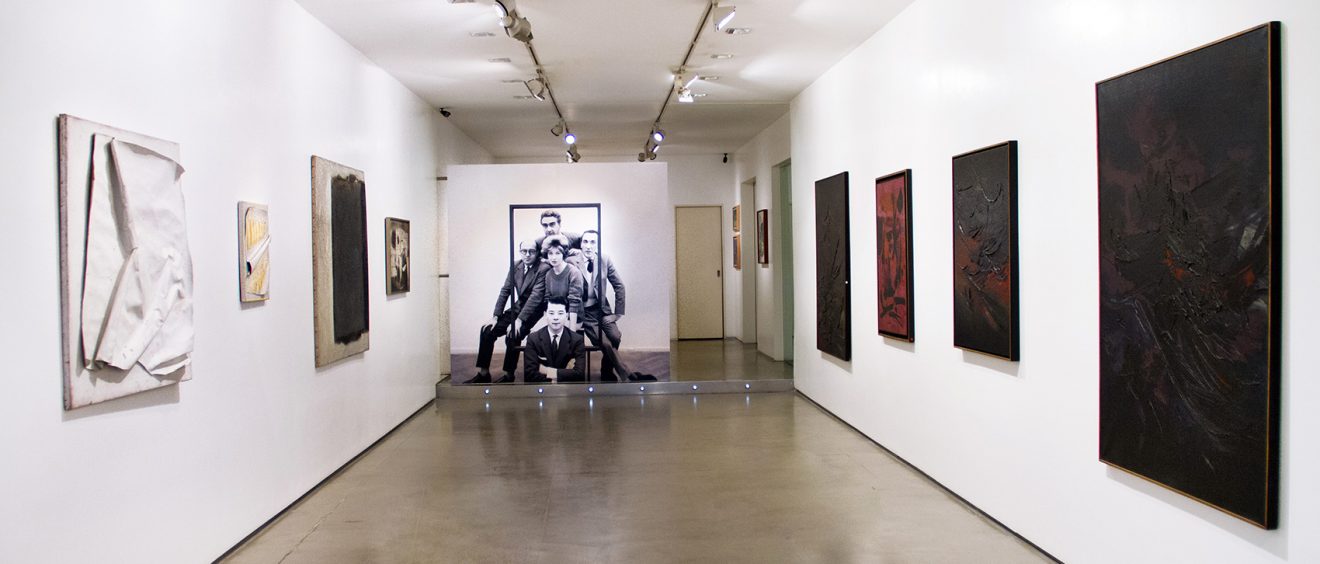 Grupo de Los 5
Sarah Grilo / José Antonio Fernández-Muro / Miguel Ocampo / Kazuya Sakai / Clorindo Testa
April 7 to May 31, 2022
---
Jorge Mara – La Ruche is pleased to announce the exhibition – Grupo de los 5 – dedicated to five mid-20th century Argentinian artists brought together by the prestigious Bonino Gallery in Buenos Aires in the 50s and 60s.
–
–
Five Bonino Artists
Juan Cruz Andrada
The Bonino gallery is still introduced today as an example of success. Throughout its almost thirty years of existence (1951-1979) it managed to build a fertile commercial model that served as a support platform for some of the most prestigious artists in the country. Its projection locally in the fifties and internationally from the sixties, constituted it as a central space in the processes of building symbolic and economic value of Argentine art.
The story of the Bonino gallery has been studied many times, especially that of its director, Alfredo Bonino, who was able to build a network of complex relationships that helped him consolidate the almost mythical prestige he managed to give the institution. In this sense, the success story of the gallery is owed both to Alfredo Bonino and to his wives Giovanna and Fernanda, to his friend and partner Enzo Menichini; his assistant Guillermo Whitelow, who in the seventies would become director of the Modern Museum of Buenos Aires and critics such as Manuel Mujica Lainez, Julio Payró and Jorge Romero Brest, amongst others. However, in this web of interpersonal relationships, it is the artists who deserve a special mention. 
Since the modern system of galleries was consolidated as a way of building artistic and commercial value at the end of the 19th century, artists saw their fortune deeply intertwined with the sort of space that promoted them. In this way, the relationship between artist and gallery owner, on many occasions, exceeded mere commercial interest, and lead to a bond of friendship and mutual respect that would last over time. This is the case of the five artists presented in this exhibition. 
The Bonino Gallery opened its doors in May 1951 and its inaugural exhibition, ´France Through 15 Argentine Painters´, included works by Sarah Grilo (1917-2007), José Antonio Fernández Muro (1920-2014), and Miguel Ocampo (1922 -2015). At that time the artists were around 30 years old and presented a freer alternative to the geometric abstractions developed by those groups of the 1940s. This was the beginning of a fruitful artistic and commercial friendship that resulted in multiple exhibitions throughout the following decades both in Buenos Aires and abroad. So strong was their bond that, according to Guillermo Whitelow, "Grilo and Fernández Muro were like spoiled children, he encouraged them [Alfredo Bonino] as much as he could, and when he went to Brazil he tried to lay down the law to them there".
Similar is the case of Clorindo Testa (1923-2013) who, after his first participation in 1955 in a collective exhibition entitled ´6 Painters and 2 Sculptors´, became part of the permanent cast of the gallery. But the confidence that Bonino had in Testa's aesthetic proposals became explicit when the gallery owner hired him to design the new gallery space on Marcelo T. de Alvear Street, opened in 1969. Clearly modern in style, the new space offered the amenities of having been designed to meet the specific needs of an art gallery. In this sense, the architect put all his experience as a gallery artist at the service of the exhibition space, creating a degree of personalization and an individual impression never before seen in a local art gallery. 
The last to join the gallery was Kazuya Sakai (1927-2001) who exhibited for the first time in 1958 and continued to do so until 1963, the year in which the gallery published a book dedicated to the artist, written by Jorge Romero Brest.
The editorial edition was a recurring and central strategy used by the Bonino gallery to promote and build value of the artists it represented. Along these lines, in 1960 Ediciones Bonino published a book dedicated to the five artists and to Josefina Robirosa (at that time signing as Miguens) written by Hugo Parpagnoli. Not coincidentally, this publication coincided with the exhibition that Grilo, Fernández Muro, Ocampo, Sakai and Testa shared in the National Museum of Fine Arts and from which they were given the name "Group of 5" although already in the same exhibition text Romero Brest stated:
In truth, these painters did not form what was usually referred to as a group until some time ago. So much so that there is no possibility of baptizing it, since each one follows their own path, responding to a pure will to be personal. 
It is impossible to exhaust in a few words what was the relationship of these artists with the gallery that represented them for so many years. The archives show a constant exchange of letters dealing with topics as diverse as the transfer of money for the sale of a work, congratulations on some important artistic event, or Christmas greetings. Throughout the 20th century, art galleries such as Bonino were living spaces whose objective went beyond the simple sale of work. They were spaces for sociability, debate, exploration from which artists, such as those exhibited here, who today are considered undisputed masters, were helped to motorize and consolidate their careers. 
Juan Cruz Andrada
(22/03/2022)