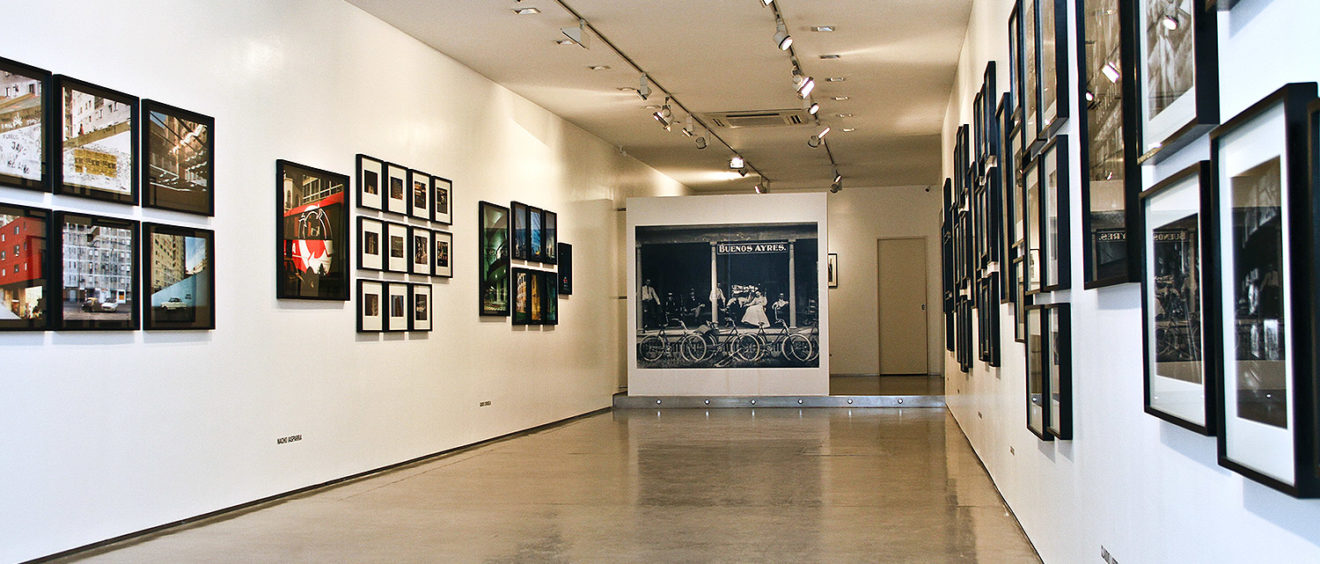 Ten Views of Buenos Aires
October 19th to December 30th, 2017
He was born in Geneva, Switzerland, in 1968. He studied photography in Lugano (Switzerland) and in Milan (Italy). Since 1990, he has been working as an independent photographer focusing mainly on architectural photography, reproduction of works of art and advertising photography.


In parallel, he has been developing personal projects with which he won the prize for visual arts from the Swiss Ministry of Culture in 1996, 1999 and 2001 and the Swiss Art Awards in 2008. Between 1998 and 1999 he resided at the Swiss Institute of Culture in Rome. Since December 1999 he has lived in Buenos Aires.


His photographic work is often accompanied by great human involvement. In Buenos Aires he has made series of photographs in singular places, such as Caseros Prison and the Piedra Buena neighborhood in Villa Lugano, with the double objective of establishing a memory and creating very elaborate visual compositions.


His works were shown in individual and collective exhibitions in Europe, Latin America and the United States. His works have been acquired by museums and public and private collections in Argentina, the United States of America and Europe.



Born in Argentina in 1963, he studied journalism and History of Art in Buenos Aires and Audiovisual Techniques in Madrid.


In 1986 he began his professional career as Director of Art in the production of covers and articles for magazines: Rolling Stone, Playboy and Cosmopolitan.


In parallel, since 1999 he began as Art Director in advertising for Cinetauro. At the beginning of 2001 he moved to Barcelona (Spain), where he settled for nine years. During that time he worked as Art Director in video clips (Kylie Minogue: Body Language) and in advertising. Simultaneously, he made several photographic trips to Havana, New York, Istanbul, and Budapest, concentrating on urban and architectural landscapes. At the beginning of 2010, back in Buenos Aires, he began to carry out a photographic survey of the city, in a project that is called El Amante de Buenos Aires. He recognizes Robert Frank, Horacio Coppola, Cartier-Bresson and John Szarkowski as his photographic influences.


He has held numerous solo and group exhibitions in Argentina, Europe and the United States, and has received local and international awards for his photographic work.


He was born in Buenos Aires in 1951. Between 1981 and 1983 he studied at the New England School of Photography in the city of Boston, USA. There he also attended the workshops and seminars given by Joel Meyerowitz and Jerry Uelsmann. In Buenos Aires he participated in the Photography Clinics at the Buenos Aires Cultural Center.


He was curator of the Photo-gallery at the Ricardo Rojas Cultural Center / Buenos Aires University, 1995/2013. He was guest lecturer at the Art Department in the Torcuato Di Tella University (Buenos Aires).


His work forms part of the collections of Contemporary Photography at the Buenos Aires Museum of Modern Art, the National Museum of Fine Arts, the Castagnino National Museum (Rosario), the Costantini Museum of Latin American Art, the Franklin Rawson Museum of Fine Arts in San Juan and private collections in Argentina and abroad.


He lives and works in Buenos Aires.
Grete Stern (1904 - 1999)

Grete Stern was born in Wuppertal-Elberfeld, Germany, in 1904. She studied graphic arts in Stuttgart between 1923 and 1925, and then photography as a private student of Walter Peterhans. Together with Ellen Auerbach she opened the Berlin studio for design and photography ringl + pit in 1929, whose work would be studied and disseminated in later years. In 1932 she entered the photography workshop at the Bauhaus in Dessau. There she met the Argentine photographer Horacio Coppola, whom she married in 1935. The following year the couple moved permanently to Buenos Aires, where Stern remained until her death in 1999.


Among other photographs, her work includes complete series about the city of Buenos Aires, the architecture of the city, landscapes of southern Argentina, the life and handicrafts of the Aboriginal people in Gran Chaco, and portraits of various Argentine artists and intellectuals, as well as the famous photomontages for the illustration of Sueños in the section "Psychoanalysis will help" published in the Argentine magazine Idilio between 1948 and 1952.


Her photographs are found in important private collections and in museums and institutions inside the country and abroad, such as the Museum of Modern Art in New York (MoMA), the Reina Sofía Art Center Museum in Madrid, the Lasar Segall Museum in San Pablo, the Buenos Aires National Museum of Fine Arts (MNBA), and the Valencian Institute of Modern Art in Valencia. 
Her works have been exhibited in innumerable shows and publications. Among them, stand out the great retrospective of her photographic work and design realized by the San Telmo Foundation, Buenos Aires in 1981; the publication in 1995 of the book-catalog Grete Stern, obra fotográfica en la Argentina through the National Arts Fund; the edition of Grete Stern, a book of portraits realized in Argentina, with a selection and texts from Sara Facio, in 1988; and the two exhibitions of the complete photomontages series Sueños from the Idyll magazine that were carried out in 1995 and 2003 in the Valencian Institute of Modern Art (IVAM, Valencia, Spain) and the Recoleta Cultural Center ( Buenos Aires).


In 2015, MoMA (Museum of Modern Art, New York) presented the exhibition From Bauhaus to Buenos Aires: Grete Stern and Horacio Coppola.


He was born in Buenos Aires in 1969. He started in photography in 1986, studying with Eduardo Gil and in a self-taught way, later developing a career in professional photography and as an author up to the present.


He studied medicine at the University of Buenos Aires, specializing in pediatrics at the Ricardo Gutiérrez Hospital in Buenos Aires, the most prestigious institution in this specialty.


In the field of professional photography, he was director of photography for Living magazine, and collaborated with numerous media in Argentina and abroad (Rolling Stone, La Nación magazine, the Sunday magazine from El País in Spain, Gatopardo magazine, Travesías, among others). Since 2004, he has been working from his studio with David Sisso on campaigns for important brands and companies such as Coca Cola, Unilever, YPF, Procter & Gamble, among others. 
In the field of photography, he has participated in numerous exhibitions and awards. His works form part of private and public collections such as those from the National Academy of Fine Arts and the National Museum of Fine Arts.


He won the National Arts Fund scholarship and the Antorchas Foundation scholarship, considered consecration.
Harry Grant Olds (Ohio, United States, 1869 - Buenos Aires, 1943)


He was born in Sandusky County, Ohio, where he began his career as a photographer at the Bishop studio. In 1894, he became associated with Albert Willman, with whom he opened several photographic studios.


In 1899, Olds decided to leave for South America aboard the Buffon, from where he took snapshots during his trip from New York to Buenos Aires and then, in Orcana, on the way from Montevideo to Valparaiso.


After his passage through Chile, in 1900, Olds took his first negative in Buenos Aires. Pioneer in a unique style of working the portrait for that time, he opened a studio that became renowned. In 1901 he was appointed official photographer at the Argentinian Rural Society - the same year in which he made his first work for that institution in a cattle exhibition - a position he held until 1916 and which gave him recognition and a link with the farmers for future work. 
His photographs of views and customs were published, in their great majority, by the magazine La Ilustración Sudamericana. In addition, several publishers turned to his large bank of images for the publication of postcards. Those of street vendors, ´conventillos´ (boarding houses for poor families), burning rubbish, etc., in Buenos Aires, Córdoba and the Littoral, stand out.


He is considered one of the most important precursor photographers in Argentina. His photographs are found in important museums and institutions in Argentina, the United States and Latin America.
Horacio Coppola was born in 1906 in Buenos Aires. In 1932 he traveled to Europe and studied in the Photography Department of the Bauhaus in Berlin directed by Walter Peterhans. There he met Grete Stern, a German photographer with whom he would marry three years later.


Since his return to Buenos Aires in 1935 he devoted himself exclusively to photography. In his vast work, the following stand out: the photographic series on pre-Columbian art, on the work from the Brazilian sculptor Aleijadinho in Ouro Preto, on the cities he toured in Europe and, above all, his photographs of the city of Buenos Aires, initially in the book Buenos Aires 1936 Visión Fotográfica (edition from the Buenos Aires Municipality, 1936). These photographs - an unavoidable reference in the tradition of photographic images that take the subject of this city - were inspiring of numerous exhibitions and books published around the world. He exhibited in, among many other places: the Buenos Aires Museum of Fine Arts (MNBA); the Buenos Aires Museum of Modern Art (MAMBA); the Valencian Institute of Modern Art (IVAM, Valencia); the Buenos Aires Museum of Latin American Art (MALBA); the Moreira Salles Institute in Rio de Janeiro; the Telefónica Foundation, Madrid; Círculo de Bellas Artes, Madrid.


The Jorge Mara-La Ruche Gallery held exhibitions in 2001 and 2005 on its Buenos Aires series and the Buenos Aires catalog, 1936. In 2009, it presented the exhibition Horacio Coppola, Los Viajes with unpublished photographs taken between 1931 and 1935 on his way through Brazil, Germany, England and France. Subsequently the exhibition was transferred to the Círculo de Bellas Artes in Madrid. On the occasion of this exhibition, an extensive catalog was published with reproductions of the works and texts from Luis Priamo, Natalia Brizuela and David Oubiña. It also included a DVD with the four films filmed by Coppola during those years (Un quai de la Seine; Traum; A Sunday in Hampstead Heath and Así nació el Obelisco).


In 2015, MOMA presented the exhibition From Bauhaus to Buenos Aires: Grete Stern and Horacio Coppola from May 23rd to October 10th.


He was born in 1973 in the city of May 25, Buenos Aires Province. In 1992 he moved to Buenos Aires and a year later he began his photography studies. He studied at the Argentine School of Photography, took workshops with Ricardo Torosian and Fabiana Barreda, and studied two years of photography in Foto Desing. He formed several study groups and exchanges of concerns with friends and colleagues of the same generation.

Since 1997 he has participated in many collective and individual exhibitions in galleries, museums, public and private institutions. His photos form part of the collection at the Buenos Aires Museum of Latin American Art (MALBA) and the Buenos Aires Museum of Modern Art (MAMBA). Several of his works are published in the books Rutas y Caminos, Nueva Fotografía Latinoamericana 2, the magazine Big Buenos Aires and Purple.


He teaches photography in Buenos Aires, the city where he lives.
Sameer Makarius (Cairo, Egypt, 1924 - Buenos Aires, 2009)


Son of German mother and Egyptian father, his youth was spent between those countries. At the beginning of the Second World War, the family was stranded in Hungary on their return to Egypt. Makarius studied art in Budapest, co-founded the Hungarian concrete art group and had his first exhibition there in 1944.


He arrived in Argentina in 1953 and at that time already spent much of his time on photography. 
Makarius was a prolific photographer in the 1950s and 60s. Buenos Aires, especially the La Boca neighborhood, was his favorite subject, although he also made notable portraits of artists such as Jorge Luis Borges, Marta Minujín, María Elena Walsh, Rogelio Polesello, Raúl Soldi, among many others.


His legacy consists of 120,000 negatives, thousands of photographs and a considerable number of paintings, drawings and collages. 
Makarius exhibited extensively in Argentina (his first exhibition was in 1953) and also abroad: New York, Zurich, Madrid and Budapest, among other cities.


He published several photography books, including Buenos Aires y su Gente (1960) Buenos Aires mi Ciudad (1963) and Retratos y Textos de artistas (2008).


As photographer and historian of photography he organized several exhibitions of Argentine photographers and dedicated much of his life to the investigation of historical photos. He collected photographs from all over the world.

Photographer, editor, curator. 
She was born in Argentina in 1932. She was National Professor of Fine Arts (1953). She received a scholarship from the French Government (1955/56) and resided in Paris where she studied Visual Arts. She traveled and studied in England, Italy, Germany, Switzerland and Austria.

Between 1957/60 she studied photography in professional workshops in Argentina, France and Italy.


During the years 1960/61 she worked as assistant to Annemarie Heinrich. She took photo-color courses in Kodak-Rochester, USA (1960) and Agfa-Gevaert, Bs. As. (1965).


In 1960, she opened a studio in partnership with Alicia D'Amico with whom she collaborated until 1985. She specialized in portraits, social essays, and graphic and written journalism, collaborating in newspapers and magazines from Argentina, America and Europe to the present day. 
She created specialized sections in the newspapers Clarín, La Nación (1964-1974) and in the magazines Autoclub, Vigencia, Cultura, Fotomundo, (1970-1998).


In 1973 she founded with María Cristina Orive, LA AZOTEA Photographic Publishing House, which still directs, dealing exclusively with the publication of photographs.


In 1979 she was a founding member of the Argentine Council of Photography. In 1985, she created the San Martin Theater Photo-gallery (Government of Buenos Aires City) which she directed until 1998 and where she presented more than 160 exhibitions with her catalogs. 
Between 1995 and 1999 she was Advisor on Photography at the Secretary for Culture of the Nation and at the National Museum of Fine Arts. 
In 1998 she created and presented the first Photographic Collection of National Heritage in the National Museum of Fine Arts, based on private donations.


She has been an independent curator since 1961 (Argentine Photography in Paris, Palais Royal) and the National Museum of Fine Arts since 1995, (Argentine Photography 1895/1995). 
She was invited and participated in International congresses, meetings and festivals around the world (Germany, France, Italy, Mexico, Peru, Spain, etc.).


She also participated in numerous individual and collective exhibitions in museums and galleries throughout Argentina and the world, such as the Kunthaus in Zurich, the Pompidou Center in Paris, the Palace of Fine Arts in Mexico, the Museum of Contemporary Art in Madrid, the Kassel House of Culture, Germany, the Saatchi Gallery in London, the New York Neighborhood Museum, the Shadai Gallery, Tokyo, the Charleroi Museum of Photography, Belgium, the Berlin Museum and major museums in Argentina. 
She has published numerous photography books, among many others, La Mirada; Sarah Facio- Photographs; - La Foto como Pasión Sarah Facio- Fotografías;Foto de Escritor 1963/1973; Jorge Luis Borges en Buenos Aires.