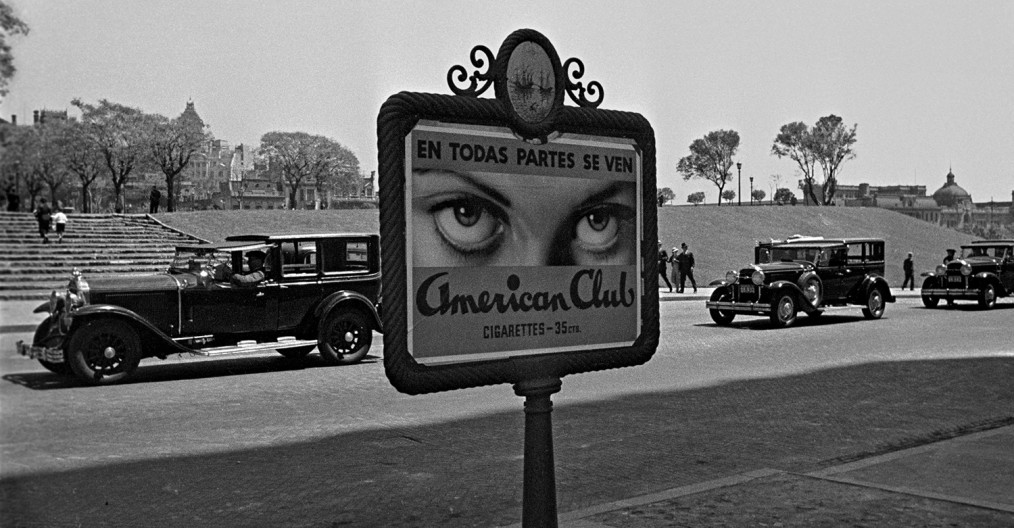 Horacio Coppola
Horacio Coppola was born in 1906 in the city of Buenos Aires, where he died on June 18, 2012. During 1932 he studied in the Department of Photography at the Bauhaus in Berlin directed by Walter Peterhans, who he reached through Grete Stern, German photographer with whom he would marry three years later.
Since his return to Buenos Aires in 1935, he devoted himself exclusively to photography. Amongst his vast array of works, the series about pre-Columbian art, about the work of Brazilian sculptor Aleijadinho and various parts of Europe stand out. His pieces about Buenos Aires, produced from the early thirties, are an unavoidable reference in the tradition of photographic images that deal with the city topic by topic.
Among others, his work is reflected in the following books: Buenos Aires 1936. Photographic Vision (edition from the Buenos Aires Municipality, 1936); Sculptures from Antônio Francisco Lisboa or Aleijadinho (1955); Forty Years of Photography (1969); Imagema. Picture Anthology 1927-1994 (1994); Horacio Coppola´s Buenos Aires (IVAM, Valencia, 1996); Buenos Aires in the 30s (Jorge Mara-La Ruche Gallery, 2005); Visões (Visions) of Buenos Aires (Moreira Sales Institute, Brazil, 2007); Horacio Coppola, Photography (Telefonica Foundation in Spain, 2008); The Trips ( Jorge Mara La Ruche Gallery 2009).
He exhibited, among many others, at the Museum of Fine Arts in Buenos Aires (MNBA), the Buenos Aires Museum of Modern Art (MAMBA), the Valencian Institute of Modern Art (IVAM, Valencia) and the Museum of Latin American Art in Buenos Aires (Malba). In 2008 the Moreira Salles Institute in Rio de Janeiro hosted Horacio Coppola. Visões (Visions) of Buenos Aires, a major exhibition that toured several cities in Brazil. In March of that same year, the Telefonica Foundation inaugurated a large retrospective itinerant in its headquarters in Madrid, which included the book edition Horacio Coppola. Photography.
In 2009 the gallery Jorge Mara-La Ruche presented Horacio Coppola. Trips, unpublished photographs taken between 1931 and 1935 on a tour in Brazil, Germany, England and France; subsequently, the sample moved to the Circle of Fine Arts in Madrid. On the occasion of this exhibition, a comprehensive catalog with reproductions of works and texts by Luis Priam, Natalia Brizuela and David Oubiña was published. Also included was a DVD with films made during those years by Coppola (Un quai de la Seine, Traum, A Sunday in Hampstead Heath, and That is how the Obelisk was born).
In 2015, the MoMA presented the exhibition From Bauhaus to Buenos Aires: Grete Stern and Horacio Coppola from the 23 May to 10 October.